Add:No.14 Shangwu Outer Ring Rd, Zhengzhou, China.
Tel:86-371-65621392
Fax:86-371-86616825
Email:feedom@haomeicn.com
Aluminum Strip for Transformer
Time:2022-02-24
Aluminum strip for transformer
can be divided into different grades, specifications and tempers according to their uses. The grades are: 1060, 1050, 1050A, 1060, 1070, 1070A, 1350,etc. O temper is often used. Thickness is between 0.08-3.00 mm.
1060 aluminum strip has high aluminum content, usually 99.6%-99.7% or more. Its electrical conductivity and thermal conductivity is only lower than that of copper in the conventional metals.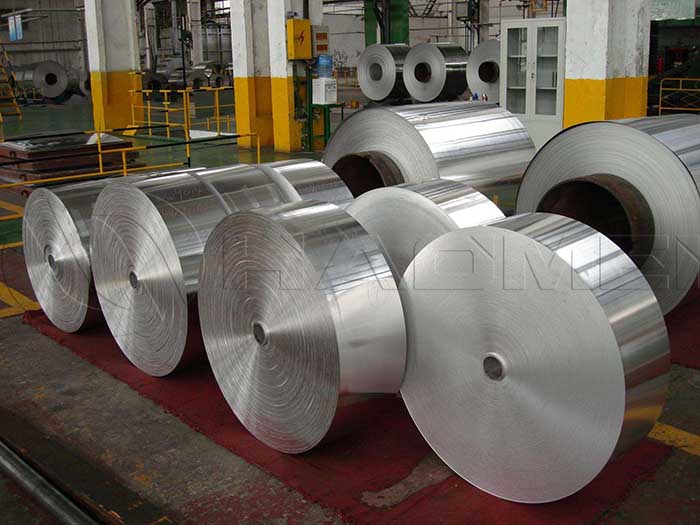 1060 aluminum strips are mainly used in the high and low voltage winding of dry-type transformers as conductive materials. It has good elongation and tensile strength, which can fully meet the needs and uses of transformer winding requirements.
It also has high plasticity, corrosion resistance, electrical conductivity and thermal conductivity, but low strength. Heat treatment can not strengthen the machinability. 1060 aluminum strip can be welded by gas welding, hydrogen atom welding and contact welding, and it is not easy to be brazed.
Starting from the aluminum strip casting process, Haomei Aluminum has strict control of the following steps such as melting casting, rolling, heat treatment, and finished product shearing,etc.
By controlling the alloy composition and optimizing the rolling and annealing process, the products have achieved high electrical conductivity and mechanical properties. In order to improve the precision and quality of transformer aluminum strip, we have updated the advanced slitting processing equipment to ensure 100% burr-free precision.
Haomei can supply the inner diameter, outer diameter and width of the aluminum strip ccording to the user's requirements, and the width is within plus or minus 0.1mm. During the slitting process of the aluminum strip, a protective film can be attached to avoid scratches in the subsequent processing process, and the aluminum strip can also be subjected to secondary flattening processing as required to provide ultra-small and ultra-narrow aluminum such as
aluminum strip 10 mm
.
Return to the list page