Add:No.14 Shangwu Outer Ring Rd, Zhengzhou, China.
Tel:86-371-65621392
Fax:86-371-86616825
Email:feedom@haomeicn.com
Aluminium strip foil coil pp 1060 h22
Time:2021-06-22
  Haomei aluminium strip foil coil pp 1060 h22 is of 0.012mm to 0.5mm thick, 100mm to 1600mm wide and customized roll weight. It's of low hardness, only a little harder than 1060 O aluminum strip. The regular tempers for aluminium strip foil pp 1060 does not include h22, for its hardness is too small. However, there are some special applications that might require h22 pp 1060 aluminium strip coil or h22 pp 1060 aluminium strip foil. We can supply them, too. The product has a such a long name (including both strip, foil and coil) because its hardness and width are really flexible, covering scopes of the three types of products. Its application field is vast, too.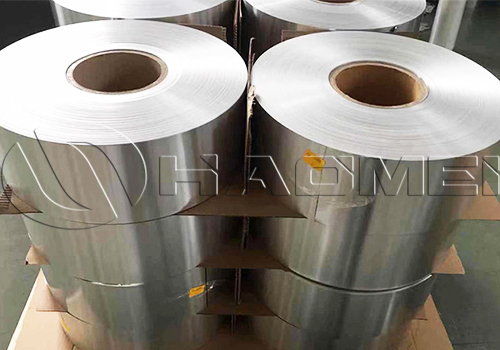 Haomei supplies top quality pp 1060 h22 aluminium strip foil coil rolls. The blank rolls are chosen by strict standards. The convexity must be between 0.2% and 0.8%, and the longitudinal thickness difference must be less than 0.1m. The surface must be free from cracks, bubbles, pores, corrosion, peeling, periodic imprints, metal and non-metal pressing, aluminum sticking, light and dark stripes. The rolling process follows strict rules, too. The surface dust of the blank aluminum must be cleaned before the rolling process. Clean the surface dust when the billet is The bad parts of the material head and tail are cut out, and the exit side plate, profile roller and guide roller are cleaned thoroughly. During the whole rolling process, the lubricate temperature, the rolling pressure and the oil transmittance are all strictly controlled. The surface of the rolled strip coil must be free from oil. After the rolled product passes, samples (horizontal, longitudinal, and 45 degree directions) are sent to the laboratory to check the tensile strength, yield strength, elongation, and test ear-making rate. In case of defects, the whole batch of aluminium strip foil coil roll with be discarded.
  The price of aluminium strip foil coil pp 1060 h22 depends on the detailed specification you need. In spite of time differences, our sales unit usually give an offer within hours as long as you send detailed specifications.
Return to the list page