Thin bendable aluminum strips
  Thin bendable aluminum strips can mean two types of aluminum strips: belts slit directly from aluminium rolls, and harder strips that have been further processed.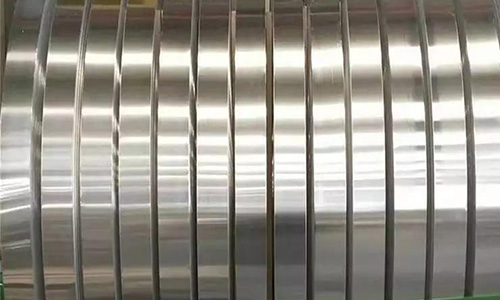 The former type of strips have pictures in pic1. They can be made of alloys 1050, 1060, 1070, 1100, 3104, 3105, 8011, 5052, 3003, 5182 etc. The applications are wide, including transformers, bottle caps, channel letters and so on. Among the alloys above, 1060 is usually applied to transformer winding, and the state is O, so that it will be easy to wind it. 1060 and 3003 are used in channel letters. 1060 is softer and cheaper, and 3003 more expensive but more durable. Bottle cap aluminum strip takes a large share of thin aluminum strips of this sort. It covers alloys of 1060, 3104, 3105, 8011, 5052 and 5182, made into liquor, beverage, cosmetics and other bottle cap packaging materials. The three types of strips are advantageous products of Haomei. Their width and thickness tolerances are implemented according to the requirements of the process card. Their surface is smooth, free of defects such as cracks, bubbles, penetrating pores, metal and non-metal pressing, light or dark stripes. In addition, Haomei strictly controls its product quality. During the rolling process aluminum strips, the surface quality should be checked every 3 coils, and the surface quality should be checked for each finished coil strip. No burrs, knife back marks, or lotus leaf edges are allowed.
  Harder thin bendable aluminum strips are a type of profile used in windows, doors and lighting, which are not our products. Thus we are not able to supply details here.
Original source: https://www.aluminumstrip24.com/news/thin-bendable-aluminum-strips.html
Tags: thin aluminium strip,
Previous: Thin aluminum strips for face masks
Next: Thin flexible aluminum strips