What Are Uses of Coated Aluminum Strip Coil
The coated aluminum strip is a paint coating of various colors attached to the surface of the aluminum coil after cleaning, chroming, roller coating, baking, etc. Since the color aluminum strip is of light texture, bright color and easy processing, it is widely used in aluminum curtain walls, shutters, rolling shutters, aluminum magnesium manganese roofing systems, aluminum ceilings, and household appliances.
Smog is made up of all kinds of nitrogen-containing substances, which not only dirty buildings, but also pollutes the air we breathe. PVDF coated aluminum coil has good anti-fouling effect. The protected object can stay clean longer and can be easily washed with water. Haomei PVDF coated aluminum coil has high water repellency, and the dirt on the surface is easily removed by heavy rain.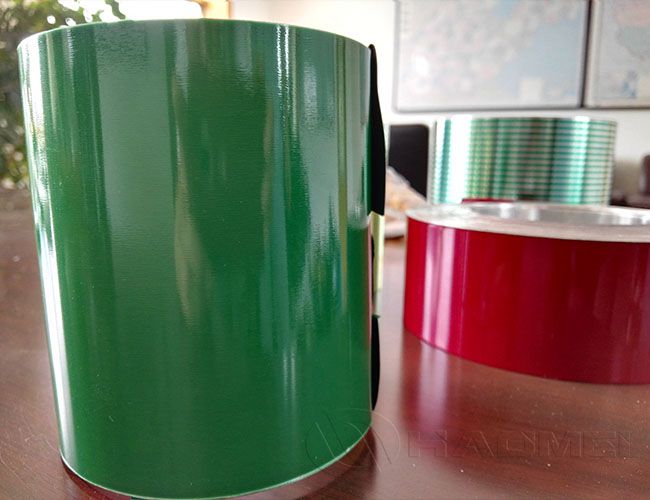 The coating process is a more critical step in the production of colored aluminum coils, which directly affects the final coating quality and product durability. Therefore, the coating process is very strict. With the continuous improvement of coating equipment and the development and utilization of new coatings, the production of coated aluminum coils has become more mature, and the processing cost is also decreasing.
In the chemical treatment process, the color aluminum strip adopts neutral treatment agent, roller coating treatment and hot air rapid drying process, which is different from the ordinary dip coating chemical treatment method, effectively eliminating the damage to the environment.
Advanced chromium-free treatment liquid is used for surface treatment, which meets strict environmental protection requirements at home and abroad. During the curing process of color-coated aluminum strip, volatile components can be recycled and burned for secondary use, and equipped with advanced VOC desorption system to improve thermal energy utilization. At the same time, it achieves zero emission and eliminates environmental pollution.
Since the particularity of the color-coated aluminum strip coil is mainly reflected in the color. In order to avoid the problem of color difference, Haomei Aluminum support free samples for the customer's reference. We can produce according to the color card number, such as Ral color card (Ral), Pantone color card (PANTONE) or the samples mailed by customers. Welcome to leave message below to inquire what you need.
Original source: https://www.aluminumstrip24.com/news/what-are-uses-of-coated-aluminum-strip-coil.html
Tags: aluminum flat strip,
Previous: 5052 Aluminum Bendable Strip
Next: How to Ensure Surface Quality of Polished Aluminum Strips