Add:No.14 Shangwu Outer Ring Rd, Zhengzhou, China.
Tel:86-371-65621392
Fax:86-371-86616825
Email:sarah@aluminium24.eu
Thin flexible aluminum strips
Time:2021-04-12
  The thin flexible aluminum strips is actually a half-finished product rather than a raw material. Cut from big aluminium stripe rolls, they are used as mask nose bridges, DIY frames, diamond decoration etc. The strips are usually of smaller, lighter rolls compared to industrial aluminium strips. They are an deep-processed aluminum product formed by aluminum coil slitting. The raw materials are pure and alloyed cast-rolled or hot-rolled aluminum coils, which are rolled into thin rolls of different thickness and width by cold rolling mill, and then longitudinally slitted into different width by slitting machine according to the purposes. Just like any other aluminium product, thin flexible aluminum strips can obtain an oxide film to prevent metal corrosion in moist air.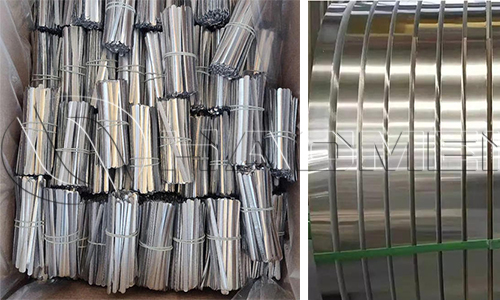 According to the different alloying elements contained in the aluminum strip, the flexible thin aluminum strips are also divided into 8 series. However, the commonly used series are 1000, 3000, 5000 and 8000 series, including 1060, 1100, 3003, 5052 and 8011. Mask strip aluminum tape, generally alloy 1060 or 3003, O state, ordinary surface mill finish, thickness 0.4-0.5 mm, width 90-100mm. The aluminum tape is used in the production of various masks, and has the characteristics of bending resistance, safety and non-toxicity. Another use of the aluminum strip is to be used as a bendable metal craft line for the production of frames such as jewelry and photo frames. In addition to the basic plain aluminum strips, oxidized and brushed soft aluminum strips are also very popular in frame DIY. They not only have the basic properties of aluminum alloy (light weight, strong corrosion resistance, non-toxic, etc.), but also have the characteristics of strong decoration and durability.
  Haomei provides raw materials of thin flexible aluminum strips, and aluminium nose strips as well. The latter is a new product developed to cater for increasing demands in mask making. We have guarantees for all the strips. Please feel free to inquire!
Return to the list page