2014 Aluminum Strip Supplier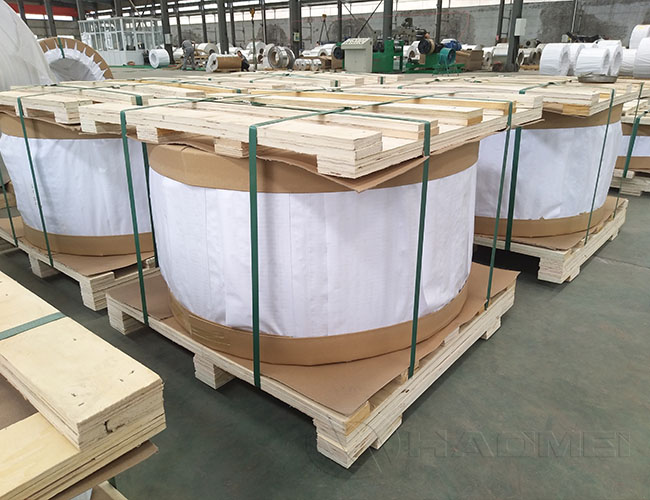 What is 2014 aluminum
2014 aluminum is a high-strength duralumin with high strength and good machinability. It can be strengthened by heat treatment. It has medium plasticity in the state of quenching and just quenching, good spot welding, and tends to form intergranular cracks when gas welding is used.
2014 alloy has good machinability after quenching and cold work hardening, and low machinability after annealing. Its corrosion resistance is not high, and anodic oxidation treatment and painting methods are often used to improve its corrosion resistance. It is often used in structural materials such as aviation components, transportation equipment, and equipment components.
2014 aluminum strip chemical composition(%)
| | | | | | | | | | |
| --- | --- | --- | --- | --- | --- | --- | --- | --- | --- |
| Alloy | Si | Fe | Cu | Zn | Mn | Mg | Ti | Others | Al |
| 2014 | 0.5-2.10 | 0.7 | 3.9-5.00 | 0.25 | 0.40-1.00 | 0.20-0.80 | 0.15 | 0.15 | Remainder |
Applications
2014 aluminum is used in occasions requiring high strength and hardness (including high temperature) like aircraft forgings, thick plates and extruded materials, wheels and structural elements, multi-stage rocket first stage fuel tanks and spacecraft parts, truck frames and suspension system parts.
Features
1. High strength: The yield strength of 2014-T351 aluminum alloy can reach more than 600MPa, which is much higher than that of 7075 aluminum alloy. This makes the alloy ideal for high-strength components such as aero-engine blades.
2. Good machining performance: 2014-T351 aluminum alloy has good mechanical properties, including plasticity, toughness, fatigue strength, etc. This makes the alloy capable of various complex mechanical stresses.
3. Heat resistance: 2014-T351 aluminum alloy has good heat resistance at high temperature and can withstand stress in high temperature environment.
4. Good corrosion resistance: 2014-T351 aluminum alloy has good corrosion resistance and can operate in harsh environments for a long time without corrosion.
5. Good formability in hot state: 2014-T351 aluminum alloy has good formability in hot state, and can be processed smoothly by drawing, extrusion and rolling.
6. Remarkable heat treatment strengthening effect: 2014-T351 aluminum alloy can improve its strength through heat treatment, which makes it more widely used in high-strength structural materials.
The difference from other alloys
The 2017 and 2024 alloys are called duralumin. 2017 alloy can be strengthened under natural aging (T4), and 2024 alloy has higher strength. These alloys are used as aircraft components, various forged components, cutting and vehicle components, etc.
The 2011 alloy is a free-cutting alloy containing trace amounts of lead and bismuth, and its strength is roughly the same as that of the 2017 alloy.
Original source: https://www.aluminumstrip24.com/products/2014-aluminum-strip.html
Tags: aluminum strip supplier,
Previous: Super Hard 2024 Aluminum Strip
Next: